Sportsnet.ca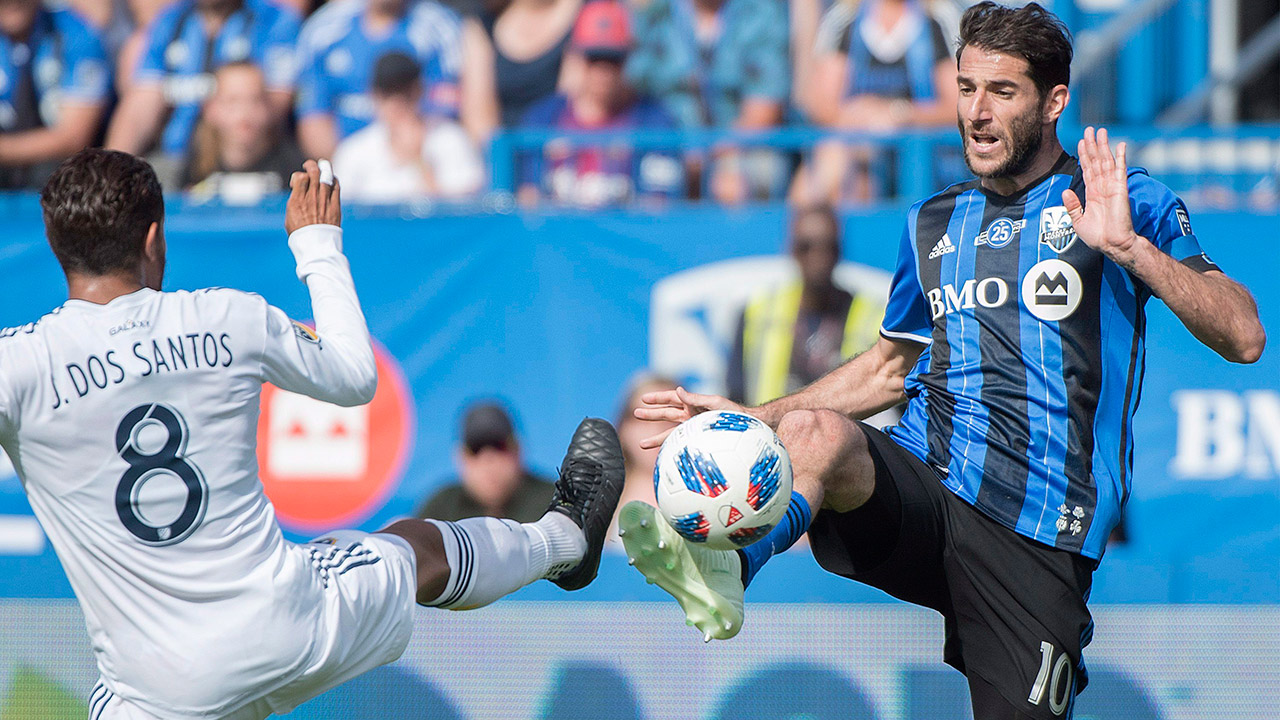 Takeaways: MLS season slipping away from Montreal Impact
• Los Angeles Galaxy 1 (Kamara 75'),
Montreal Impact
0 GAME RECAP IN A SENTENCE
Zlatan Ibrahimovic was sent off late in the first half, but the Galaxy managed to spoil the Impact's 25th anniversary festivities with a win over a hapless Montreal side on a sunny afternoon at Stade Saputo.
MAIN TALKING POINTS
1. Season slowly slipping away from Montreal
Monday marked the 25th anniversary – to the exact date – of the first home game in Montreal Impact franchise history. What a shame that the Impact put in another dire and uninspiring effort before a sellout home crowd.
Monday's result marked the Impact's third straight loss, and seventh in their last eight matches. Montreal sits second last in the Eastern Conference with a 3-9-0 record and have conceded a league-high 27 goals this campaign.
Just as worrisome for the Quebec club is how the goals have dried up. The Impact's three straight losses have all been shutouts, and they've gone 292 minutes without a single goal.
It's still only May, and there are 24 games remaining on the schedule, so it's way too early to write off Montreal's playoff chances. Still, the Impact are every bit as bad as their anaemic record suggests, and there's been very little that I've seen during this year that indicates they are underperforming or even capable of offering anything more.
No doubt, the Impact have been decimated by injuries on the defensive end. That has hurt them, as players have been asked to play out of position.
But aside from Ignacio Piatti, this team doesn't appear to have any other dangerous attacking threats. Canadian forward Anthony Jackson-Hamel is coming off a decent 2017 but, for some reason, manager Remi Garde has sparingly used him this season.
Slowly but surely, the MLS season is slipping away from Montreal. Unless Garde can quickly light a fire under this team, especially on the attacking end, they're going to slip even further down the table and out of the playoff race altogether.
2. Ibrahimovic sees red
MLS caught its first glimpse of Zlatan Ibrahimovic's infamous temper on Monday.
Ibrahimovic was sent off in the 41st minute for violent conduct after slapping Montreal defender Michael Petrasso in the back of the head. Petrasso stepped on Ibrahimovic's foot as he had his back to the Swede, but there wasn't much in it. That didn't stop the LA Galaxy from reacting, or in this case, overreacting.
The incident escaped the attention of referee Ismail Elfath, as it happened off the ball and behind the play. Once alerted about what happened by the video assistant referee (VAR), Elfath went to the sidelines to watch a replay. He barely took any time in issuing a yellow to Petrasso and a red card to Ibrahimovic.
VAR has come under heavy criticism in MLS the season, from frustrated fans, coaches and players who aren't quite sure what can be reviewed, and over apparent inconsistencies in its application.
In this case, though, the system worked flawlessly. The game was only interrupted for less than a minute, and Ibrahimovic deservedly saw red.
KEY MOMENT
75' GOAL! Los Angeles 1, Montreal 0: LA broke the deadlock on the counter when Emmanuel Boateng flicked on a header into the path for teammate Ola Kamara. The Norwegian did well to beat Impact defender Marco Donadel to the ball, and then slip in between the recovering Donadel and defensive partner Jukka Raitala before slipping a shot through the legs of goalkeeper Evan Bush for his fifth goal of the MLS season.
BURNING QUESTION
Montreal has gone 32 consecutive MLS games without a draw, a stretch that dates back to June 17, 2017 when they battled to a 3-3 draw away to Orlando City.
MAN OF THE MATCH
Ola Kamara, Los Angeles: Aside from scoring the winner, the Norwegian recorded two shots on target and had an overall effective game in causing problems for Montreal's back line.